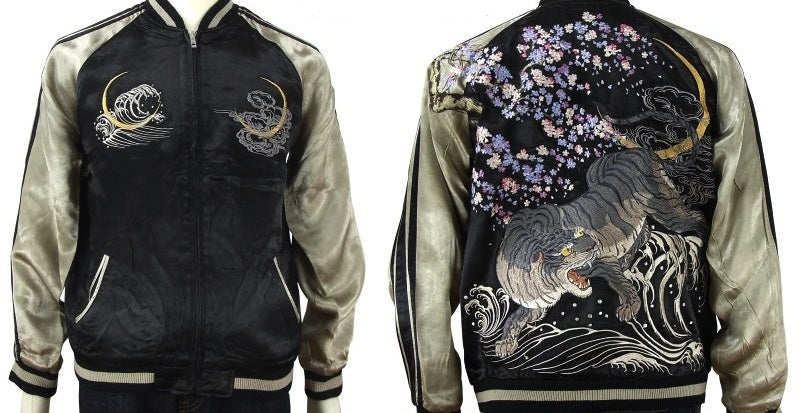 "SUKAJAN" is watched by the world now! 
Do you often see celebrities are wearing sukajan in television and magazines? 
Currently sukajan is loved as a fashion in a wide range of age, but do you know what "SUKAJAN" mean?
After the Second World War, american soldiers stationed in Japan at Yokosuka US military base ordered the embroidery in their jackets designing the oriental pattern such as eagles, tigers and dragons as a memorial to Taylor shop.
It's the beginning of sukajan.
In the beginning, it seems that the parachutes used in the army was tailored as jumpers. As this material was silk, it become a glossy jacket.
After the war, among American soldiers, it became known as "Souvenir jacket" which means jacket of souvenirs. "Souvenir jacket" began to be called "Sukajan" since the 1960s.
There are two roots that came to be called as sukajan.
· Abbreviation of "Yokosuka jumper" 
· Abbreviation of "Sky Dragon Jumper" (Sky Dragon was often embroidered.)
There are several kinds of outerwear without collars, as represented by Sukajan. It looks similar, but there are differences little by little.
・MA-1 
The work wear for the US Air Force pilot is the roots. The hem, sleeves and collar are ribs so that they do not get in the way of total engagement. The fabric is mainly nylon. There is cotton inside for cold weather, it is characterized by a pocket on the left sleeve. It is also said to be a bomber jacket. It seems to call the bomber jacket used in the US military before World War II, the one after that, called MA-1.
・Varsity Jacket 
This is also originated in the United States, the uniform of the baseball team of the university is the roots. Focused on mobility, it is characterized by raglan sleeves. The front is not a zip, but button closure is used basically.
・Track Jacket 
This is a blouson made of jersey material, so-called "jersey". The type with the collar is the common type.
・Sukajan 
The characteristic of Sukajan is that it is embroidered with a large, flashy pattern on the back by a shiny sashiko. Reversible is also the major feature. It is mainstream to use two fabrics "Satin" and "Velveteen" in Sukajan.
If you enjoy "sukajan", please be particular about the embroidery. 
There are wide varieties of the embroidery.
You may think that dressing is difficult, but it is easy to coordinate with simple coordinates.
You can enjoy various expressions with one sukajan because it is reversible.
You should definitely have "Sukajan"!!
Jan 29, 2016

Category:

Article
Comments: 0