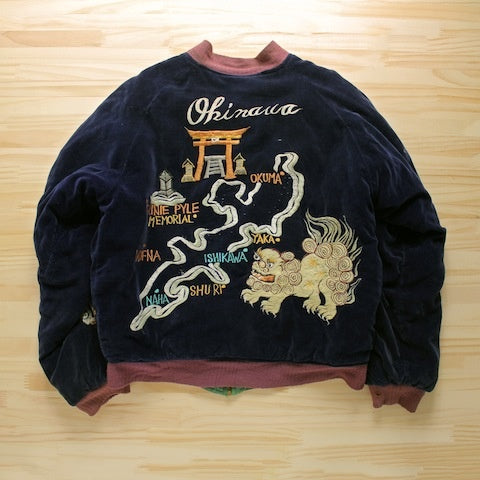 There are various vintage Sukajan. There will be collectors collecting only the vintage. If you can successfully dress vintage, you are already a master of Sukajan. Here, I will introduce about such a vintage Sukajan.
What is Vintage?
Recently we often hear the word "vintage". In the field of fashion, it refers to products released in the past. What is mainly made up by the 1960s is called vintage.
The more it is made in the old age, the higher its value, the more expensive the price. However, just by listening to the word "vintage", there will be a lot of people who are tempted by the high value and want to buy.
So, what is the attraction of vintage attracting people's heart?
Value of Vintage
The greatest attraction of vintage is in its atmosphere. That's the same with Sukajan. Vintage items were made before technology developed as now.
It feels the atmosphere "Because it is an old thing". It was almost a handmade to say so, of course, mass production was not possible. That's why vintage has a lot of warmth of the maker♪
For those who are not interested in vintage, you may think of just clothes. However, there are things that it is better to keep them in a safe place.
Vintage Souvenir jacket
Because the number of vintage souvenir jacket is small, there are not so many shops in place. There are souvenir jackets which are processed into a vintage style now.
Fabric
When Sukajan was born, it was a period of little supplies. The jacket which is used with velvet is super rare.
Also, there are Souvenir jackets in the details such as pockets where the cutting edge of Nishijin textile kimono was used.
Design
The design that is often seen in vintage is the Korean peninsula with 38 degree line is drawn. The 38th line was the boundary line between Korea and North Korea, which was established in 1948.
The design that does not draw the boundary line is the bomber jacket which was made before 1948. It is also interesting part of Sukajan that you can understand the history background well.
Zipper
Another important point in the vintage is the zipper. The zipper made by TTS (Tokyo Teranishi Shokai), famous as a zipper manufacturer, has gained popularity from long ago.
Of course, that the zipper is not broken is also one of the factors that increase the value.
For those who really love Sukajan
As well as denim jeans, Sukajan showed a tremendous excitement for a while.
There are also relatively cheap ones, so if you have the opportunity, please try it in fashion! Just like Souvenir Jacket, it is perfect for presenting to important people as a souvenir!
Apr 30, 2017

Category:

Article
Comments: 0