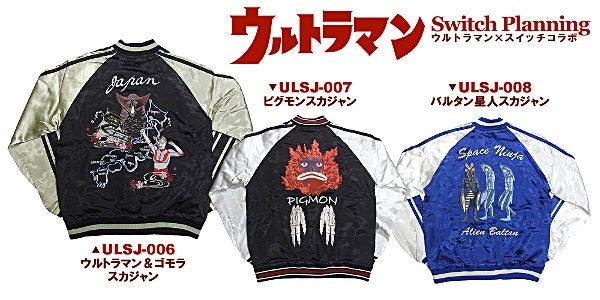 Ultraman has been loved by many people in the world as well as in Japan, from the first show until now.
Did you know that Ultraman celebrated its 50th anniversary in 2016? Now, it steadily increases TV exposure and raises awareness.
The charm full of Ultraman, which celebrated the 50th anniversary of the series broadcasting, is represented with precise embroidery technology. Please check "Expressions" which is different from illustrations and photographs!
Ultraman&Gomora Souvenir Jacket


Ultraman and Gomora who fought a fierce battle at Osaka Castle. Highly popular episode among fans "Monster Houses" is expressed in standard Sukajan patterns.
Pigmon Souvenir Jacket


Popular monster Pigmon who frequently appears throughout the series, its perfect expression and rugged texture are completely reproduced with embroidery. By vivid pink and high contrast black × white body, it became a bright image of Sukajan.
Alien Baltan Souvenir Jacket

This is Sukajan which reproduced the appearance scene of Alien Baltan in Ultraman episode 2. It is a very unique item that gathered up in a soft image using fresh blue fabric and pop fonts.
Ultraman and Alien Baltan Souvenir Jacket
Sukajan which confronted Ultraman with Alien Baltan across the design of the Japanese archipelago. It seems that it was difficult to embroider Ultraman in three dimensions, but it is finished as three-dimensional as possible with a shadow.
Jet-Vtol Souvenir Jacket
It is a Sukajan which made the science special explorer fighter "Jet Beetle" as the main. It seems that there are many core fans, and dare to point out that Ultraman and monsters do not appear!
Poiner Souvenir Jacket
This is a Sukajan which designed a fighting vehicle "pointer" on which the Ultra Guard is on board.
Embroidery of this pointer is also extremely expressing up to the shadow that reflects on the glass part (cherry tree). Although the tires and body are the same black color, you can also see the tire silhouette firmly!
Mother of Ultra Souvenir Jacket
Embroidery technology
Embroidery is done many times to make embroidery look three-dimensional. The Ultraman series is embroidered by sticking the needle 300,000 times per one sheet.
Although it is roughly, it took about 15 hours to make 300 thousand stitches, and it seems that 8 corn (things wrapped in threads) are needed. The yarn becomes less frayed. However, it is a difficult point to become heavy when wearing … (If it is one million needle, it will be just 1 kg)
Sep 27, 2016

Category:

Article
Comments: 0