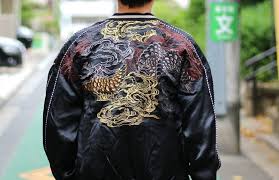 Souvenir Jacket is a fashion loved by the people of the world now.
Souvenir Jacket has become a boom in recent years.
Fashionable people in the world are wearing. 
But, 
"I do not have fashion sense for myself. Even if I bought a Sukajan, would I be able to get along well? "
"What will it be like when I wear this jacket ...?"
"What should I wear to the inner?"
There are also a lot of people who are worried, Is it!?
The wild atmosphere is preeminent, it is a useful item to add to any coordination unexpectedly.
However, some people feel that it is hard to introduce due to a slightly flashy impression. . .
So today, in order to refer to you Men's version,
I will introduce various coordination styles♪
Coordinate
Khaki × Gray parka × Denim jeans
Pullover parka is used♪
It is a monotone style, but the pattern of Sukajan is added with accent!
Black × Gray t-shirt × White pants
Beautiful white atmosphere is a keynote ♪
The whole is tightened with leather shoes!
Blue × Beige × Black
Retro color♪
It is somewhat of a long length inner and plus trend feeling!
Black × Gray t-shirt × Denim jeans
Long length inner♪
It has a street taste atmosphere!
Black × White hoodie × Black skinny jeans
It is tight pants♪
Casual items are combined with a beautiful silhouette!
Black × White t-shirts × Black pants
There is a simple street feeling♪
It is a sophisticated image by choosing a bomber jacket that is not too flashy!
Black × White t-shirts × Black pants
The cap is a good accent♪
It is a street style with a little relaxed pants!
Navy × Navy cutsew × Blue jeans
It is fresh image with blue♪
Inner's layered style is also cool!
Navy × Brown × Cargo pants
t is a coordination which chose loose pants♪
The size of tops is slightly tight!
Black × Gray sweat × Blue denim
It's an American Casual mens style♪
By sunglasses, cigaret and cap, it has become an impudent impression!
Khaki × White shirt × Denim
It is beautifully arranged together♪
The tight pants are also working!
Black × Black Parka × Denim
Sukajan is combined with a big hat♪
The simple dressing suits long hair!
Navy × White cutsew × Gray sweat pants
It is a rough outfit with sweat pants♪
New Balance shoes matched exquisitely!
Navy × Wide jeans
It is a style using a short bomber jacket♪
Wide pants are also effective, dressed in old clothes taste!
Black × Gray turtle neck × Gray slacks
Slacks are used♪
Sukajan is preeminent in combination with beautiful items!
Khaki × White sweat × Cargo pants
It is a coordination with a sense of unity that gathered up with items of khaki♪
White item with good compatibility is used!
Gold × White knit × Black skinny trousers
Gold's sukajan is the main character♪
It is stylish to finish in narrow silhouette overall!
Navy × White shirt × Black pants
Formal dress that combines shiny navy jacket and white shirt♪
Overall it is simple and cool!
Pink × White t-shirts × Black pants
Pink sukajan is producing a fresh image♪
White shirts will fit the pink sukajan of satin fabric!
How was it?
Were you able to image a little?
It is easy to catch the image when looking at the picture!
I hope to continue introducing various outfits in the future :)
Also, 

"This color is good, but what should the inner wear?" 
"Height is ○○ cm, weight is ○○ kg, but what size is good?" 
We will also propose coordination and sizes♪
Customer satisfaction,
It is a moment that I can feel from my heart that I am "good" :)
If you have any question,
please feel free to contact us♪ 
CONTACT is from here→ CONTACT US
Our shop is here→ SUKAJACK|JAPANESE SUKAJAN SPECIALTY SHOP
We kindly ask for your continued cooperation♪
Nov 23, 2016

Category:

Article
Comments: 28