Louis Vuitton's Sukajan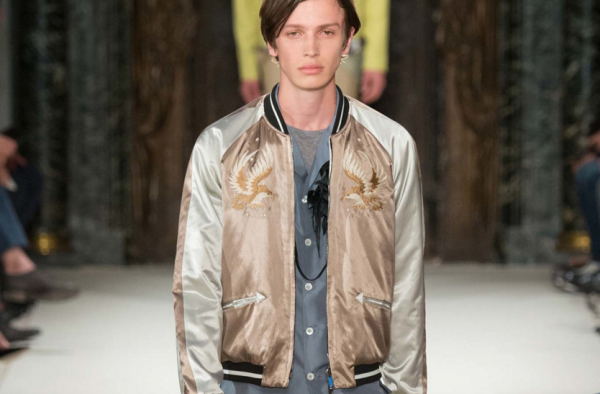 "Sukajan" attracting attention in the fashion world
Sukajan boom is coming. Louis Vuitton and SAINT LAURENT, the world's leading luxury brands launched "Sukajan" in the new collection in the spring and summer of 2016. Japanese souvenir jacket is trying to raise a trend in the fashion scene.
Louis Vuitton's Sukajan
Highlights from the Louis Vuitton Men's Spring 2016 Fashion Show from Artistic Director of Men's Collections Kim Jones.
Saint Laurent's Sukajan
14SS Saint Laurent Paris Vampire's lips are designed. It reminds me of the movie "Rocky Horror Show", but it is cool if it is combined with black denim.
Other brands
SOE
The neck and cuffs are rib specifications like baseball jacket. It has become a unified sense to wear pants with similar colors as ribs.
LAD MUSICIAN
It's a simple dark tone. Dressed in a gray top and layered pants.
Valentino
It is a good impression outfit that softens the hard impression of Sukajan with using a square cut shirt.
CHRISTIAN DADA
Because it is a combination of items with strong impressions, simply choose solid color for the inner.
VALLIS by FACTOTUM
Coordinate cleanly with monotone color. Besides sneakers, it is unified with items of blue color.
GalaabenD
Tightly summarize the whole, choose a light sandal that seems spring and summer. Necklace is the point.
JohnUNDERCOVER
The upper is clean impression with the white sukajan and white shirt. It is a style that matches the street sense and cleanliness!
LANVIN
A wild look that combines a red sukajan and wide pants. At your feet with leather shoes.
WHIZ LIMITED
Simple Sukajan with no embroidery, it is an outfit that combines a simple print T-shirt and slacks.
LOUNGE LIZARD
It is a dark-tone style combining Khaki color Sukajan and colorful border pattern T-shirt.
Sukajan has been launched from various brands. Pay attention to Sukajan from now on!
Leave A Reply
Your email address will not be published. Required fields are marked *