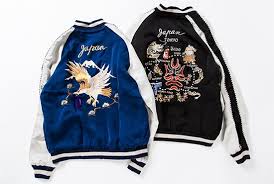 Due to the effects of Sukajan and military boom, the Japanese brand that has received attention in recent years is "TAILOR TOYO"!
Among the souvenir jacket, TAILOR TOYO is the most authoritative and popular brand.
As popular select shops develop special orders, eyes are getting increasingly more and more.
What kind of brand is "TAILOR TOYO"?
TAILOR TOYO is a Japanese fashion brand of TOYO ENTERPRISE.
In the 1950s in the heyday of the production of souvenir jacket, it was "KOSHO & CO." Which was the predecessor of Toyo Enterprise, accounting for 95% of the delivery share.
Sukajan is an abbreviation for Souvenir Jacket, it is the beginning that the US soldiers stationed in Japan embroidered eagle, tiger, dragon etc in their jacket after the war.
And during the Vietnam War between 1960 and 1975, Sukajan embroidered Vietnamese place name, map and unit name is called Vietnam Jacket.
Beginning with KOSHO & CO., A long-established brand that has been making Japanese jackets for more than half a century is "TAILOR TOYO".
It is a brand that continues to inherit Sukajan not as a boom but as a culture, and TAILOR TOYO is an original that Japan is proud of worldwide.
By the way, the TOYO ENTERPRISE Company also has other representative brands such as Sugar cane, Buzz Rickson's, Sun Surf, John Severson, Indian Motorcycle, Cheswick, Whitesville, CAT'S PAW.
Items to choose with "TAILOR TOYO" are Souvenir Jacket and Vietnam Jacket
"TAILOR TOYO" indispensable for talking about Sukajan and Vietjan.
I would like you to obtain quality first-class goods made by the original ancestor who started manufacturing soon after the war.
"TAILOR TOYO" Souvenir Jacket 6 Selections
After the war, the US soldiers living in Japan started embroidering Oriental patterns and troops and base names belonging to their jackets.
After that, Sukajan was commercialized as a souvenir and began to be sold at stores in US military bases in various places.
Almost all Japanese jackets are produced by TOYO ENTERPRISE's predecessor company "KOSHO & CO."
It can be said that it is a clothing item that used oriental design peculiar to Japan.
EAGLE x DRAGON
The appearance of reversible Sukajan. Decorating green acetate is a picture of an eagle spreading its wings.
The base model is a work of the early 1950s, and it has a texture as if it actually passed through more than half a century through aging.
The pattern on the reversible side is a dragon with expressive expression.
Not only the fabric, but also the fading of the rayon thread of embroidery is characteristic.
ROARING TIGER x DRAGON
One piece of the tiger 's pattern that the pointed depiction is a point.
Eyebrows and striped patterns embroidered with smooth curves, made in the mid 1950's, show the embroidery craftsmen's sense at the time.
The reversible side reproduces the unique color scheme of vintage which combines green and red, complementary colors, and both sides are completely different impression.
TIGER x DRAGON
The embroidery of the traditional production method has a unique texture and taste not found in contemporary mass production.
In this work which reproduced the design of such a time completely, acetate rayon twill material is used on both sides.
With a sense of texture with extremely atmospheric feeling suppressed coloring and glossy feeling, ribs such as sleeves and hems are finished with wool 30% and acrylic 70%.
HAWK x DRAGON
Acetate rayon twill is used as a material, and it is matte finish.
Both sides are produced based on models that exist as vintages, and it is a collectible wear that is boldly embroidered with a very popular design.
POLAR BEAR x DRAGON
It is a souvenir jacket of the Alaska motif made at the request from the US military base in Alaska in the 1950s.
Among them, it is a gem that recreates the design of white bear, which is traded at a high price even in rare vintage markets.
A white bear is given to the front chest part and back, and a dog sled embroidery is given to the sleeve.
Also, the motif of the reversible surface is a eagle pattern that fly over the drifting ice.
Velvet Jacket - John Lennon Model
It is "John Lennon model" announced by TAILOR TOYO.
It is a model that reproduced Souvenir jacket of sleeve embroidery of "Heart Sutra" which John Lennon used favorably.
This model was also exhibited in 1986 and 2001, and it was reprinted again.
"TAILOR TOYO" Vietnam Jacket 3 Selections
Vietnam jacket is a type of Souvenir jacket, commonly known as the Vietnamese jumper made in the Vietnam War era.
Designs such as Saigon and Hanoi are embroidered in the motif of the name of the place and maps and troops in Vietnam.
Supplies are small, vintage items are sold at high prices, and it is considered to be for items for mania.
For those who want to know Sukajan deeper, it is a recommended item.

It is a classic Vietnam jacket.
Easy to wear with familiar camouflage nylon, it is a standard item that you can enjoy the royal road style of American Casual.
The topography of Vietnamese city PLEIKU is embroidered on the back.
During the Vietnam War, it is famous that the American Air Force Base Camp Hallway was attacked by the South Vietnam Liberation National Front and triggered the North bomb.
TT13673 TIGER
Vietnam jumper made of cotton twill in the early 1960's.
The United States Navy Seabee "SEABEES" squadron and dragon on the left chest, the Vietnam map and "Fuku" character on the right chest, and a unique expression tiger on the back are embroidered.
It is a very rare design among the vintage, it is a super rare wear.
TT13674 VIETNAM MAP
The classic Vietnam jacket is arranged in contemporary style with material, detail, silhouette.
The surface material is 100% cotton, polyester is used for precise and sensitive embroidery. You can enjoy a smooth and tasteful atmosphere.
For light outer, it is an item that can be worn extensively throughout the year as Haori from early spring to autumn, as an inner in winter.
Adult dress collection with "TAILOR TOYO"
Dress Sukajan in adult casual
Sukajan with a wild impression should wear in an adult atmosphere and casual styling that is not decorative. By doing so, Sukajan stands out naturally.
The casual coordination of V-neck shirt × denim pants, exquisite presence of Sukajan exquisitely matched.
The coloring of the red gold is glossy, and the sharpness of the color scheme is good.
It is a casual outfit for men who are familiar with embroidery design on camouflage pattern.
By simplifying items to be matched, they do not fight each other and do a fusion of spectacular.
Rude clothing embroidered with a dark tone summarized style.
Elegance drifted from hat and glossy feet, casual sukajan turned into an adult impression.
It is a dress with strength that matched the red jacket to the monotone's coordination.
Tight items fitted to the body, emphasized the vertical silhouette.
A style that wore a gorgeous reversible ska jacket for black coordination.
The accessory item is only sunglasses, it is styled so that the jacket stands out as a leading role to the last.
Vietnam jacket is adopted in the elegant and calm color scheme
Just like souvenir jacket, it is the best way to succeed to make a whole body corde a calm impression to successfully incorporate a presence vietnam jacket. Do not forget the elegance.
Adult military that dressed in the same style with the same green color.
It has been adjusted to add a sense of cleanliness with a white shirt wearing and not to become too much a bone.
It is an outfit with a uniform color balance.
The vietnam jacket which quilted the whole body of the work taste is matched.
Both compatibility with chino pants are good, coloring is also familiar.
It is a layered technique of advanced level of pattern × pattern.
It seems that the overlay of vietnam jacket with big impact and total pattern shirt does not match.
However, by combining elegant pants and shoes conscious of feeling of falling out, you can dress without difficulty.
Simple dress with unified color balance of the whole body, back embroidery became an accent.
Even beginners are easy to challenge like this, so try by all means.
While summarizing in black, rude style conscious of impact with total pattern pants.
Elegant black hat and layered white cutsaw unified the whole body, vietnam jacket stands out well.
Jun 26, 2017

Category:

Article
Comments: 0