Fabrics of Sukajan, Satin and Velveteen, Nishijin brocade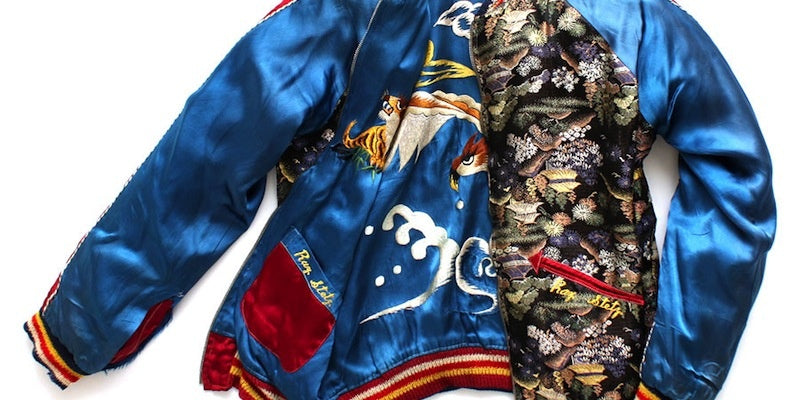 As the fabric of Sukajan, satin and velveteen are mainly used.
Recently quilting fabrics are also popular. Unlike satin and velvety, quilting is often used as a lining of Sukajan.
Here, we will introduce the types of fabrics of Sukajan.
Satin
Satin is the smooth, shiny fabric. Satin's greatest charm is its beautiful gloss! The secret of beautiful luster is in the thread and weaving method.
Satin uses silk threads both in the vertical and horizontal directions, weaving as little as possible the intersection of the threads, so that a shiny gloss and a touch feeling as slippery are born. In this way, there are few intersections of the threads, and as the whole is fluffy weave, the strength of the fabric itself is not so much.
But, its beauty attracts many people♪ Among them, white satin fabric is said to be the best for bridal. It is a satin that has been prized as an exclusive fabric for a long time but now it is also used for sukajan, shirts, skirts, dresses, etc. It has become a classic fabric.
Velvet
Velveteen is the Japanese name of Belbecentine. Fluff is intentionally made on the surface of the cloth. It is a bit thick fabric with soft touch.
Velveteen As also known as "cotton velvet", for velveteen material, cotton is mainly used, pile (feather) is made with weft yarn, and this pile is cut after woven to make fuzz on the surface of the fabric. The gentle glossy is popular, it is a fabric that you often see in Sukajan jacket.
For elegant fabrics like velvety, you can try somewhat flashy embroidery. In addition, velvety is often used for casual clothes and accessories, hats, kimono coats. However, it is a drawback that it is easy for dust to stick due to static electricity .... If it is a combination of velveteen and quilting, you can wear it warmly unexpectedly even when you think that "a bit out of season?"
Quilting
Quilting refers to sewing stitches by overlapping three cloths of the face, inner, and back. It also refers to the technique of drawing a relief pattern by placing a stitch with a sewing machine or hand stabbing on the quilted top and backing cloth, placing cotton or wool in between.
Many people are enjoying quilting as a hobby♪ Quilting fabric is strong, excellent in warmth and cold weather. It is also excellent in design, so it is highly popular as a fabric of Sukajan.
Quilting is perfect for both the design and functionality for reversible japanese jackets. Since the origin of quilting is also the United States, there may be connection with Sukajan even in such a thing.
Suit fabric
Here, I will introduce you a little rare suit cloth for Sukajan. There is a Sukajan using a suit fabric made by mixing polyester, rayon, etc.
The wild and luxurious impression is the charm of Sukajan, but some people are not good at that wildness. Recommended for such a person, it is Sukajan made by a suit fabric with a calm atmosphere!
Even in the wildness that the original Sukajan possesses, it gives an elegant impression that dressy looks and hides. If it is a clean suit fabric, you can dress both casual and formal. It is glad for us that it is easy to match also inner and bottoms!
Nishijin brocade
When American soldiers stationed in Japan returned home, they asked for souvenirs like Japan and brought it home. Among them, Nishijin satin fabric, a traditional Japanese textile, was sometimes used as a material for jackets and shirts. The production is very few, rarity is very high!
Leave A Reply
Your email address will not be published. Required fields are marked *