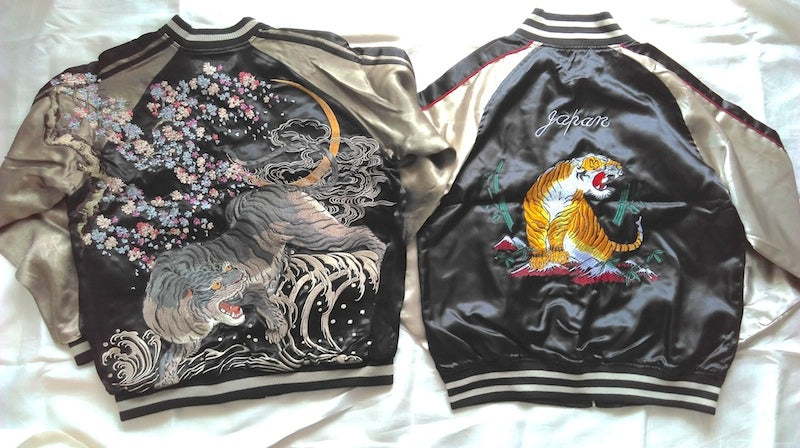 There are bomber jackets that you can buy below $100!
The embroidered bomber jackets selling at SUKAJACK are relatively expensive, but what is the difference between SUAKAJCK and AMAZON?
Of course, the brands we deal with have the best sales performance in the world, so there is a brand power.
However, that is not all.
The quality also has considerable difference!!
Everyone wants to know the difference! Is it?
So, because I bought a cheap jacket at amazon, let's compare quickly!
The left side is an embroidered bomber jacket of SATORI.
The right side is an embroidered bomber jacket of about 50 dollars purchased in Amazon.
Well then, I will check it one by one!
①Embroidery
Embroidery is the most important point of Souvenir Jacket.
And with the cheap Souvenir Jacket and the high Souvenir Jacket, there is the biggest difference in this embroidery.
Regarding embroidery, I think you can see the difference if you look at the pictures!
This is the embroidery of SATORI's Sukajan.
This embroidery density is amazing!
The density of this embroidery is directing the character's three-dimensional sense and richness of expression.
Also, because the range of design can be reproduced widely, reality is felt.
It looks like it will move now!
Also, the amount of thread color is also noteworthy. The color change is natural, there is no discomfort at all.
On the other hand, this is a souvenir jacket bought at Amazon.
The density of this embroidery is low.
The thread seems to stray from the outline.
The expression of the tiger also receives a cheap impression.
Incidentally, there are souvenir jackets printed motifs such as dragon, but I personally can not recommend them much.
Anyway, embroidery is the real thrill of Souvenir Jacket.
②Fabric
Fabric is also the same as embroidery, it is a big factor affecting the price.
The left side is SATORI and the right side is Amazon.
how is it?
It may be hard to understand if it is a photograph, but do you understand the difference?
This souvenir jacket of SATORI is Rayon 100%.
And this souvenir jacket sold at amazon is Polyester 100%.
When it is made of polyester, the fabric is shiny, there is no luxury feeling and atmosphere, it feels cheesy.
Although polyester is cheap, even SUKAJACK treats polyester products though.
On the other hand, satin feels a luxurious feeling.
In addition, the Switch Planning Company's Souvenir Jackets are vintage processed.
That means that it takes time and effort.
I think that you can understand the vintage feeling of the fabric, feeling of falling color, depth of color!
The price of souvenir jacket is great depending on the fabric.
Cheap jackets are almost made by Polyester.
However, there is a disadvantage that rayon is easier to wrinkle.
So, if you buy a souvenir jacket, three kinds of fabrics are recommended: Rayon Satin, Quilted Satin, Velveteen!
If you have resistance to the price, please choose polyester!
③Zipper
It is not a big difference, but you can also see sticking to Zipper.
SATORI's zipper has engraved Japanese words of JAPAN. It is an original zipper ordered specially to Y.K.K.
Satin is a very delicate fabric. When raising and lowering the zipper, the fabric is involved in the chain part.
Switch planning company sews the kite string and prevents pinching of the fabric.
The cheap jacket is plain.
④Reversible
Naturally, reversible bomber jacket will be higher.
Almost all Switch Planning 's bomber jackets are reversible. However, embroidery is not included on the back side, it may be plain.
If you are concerned about whether it is reversible, please contact us.
⑤Sewing
Because sewing is an invisible part, you do not know the sewing condition unless you actually wear it for a long time!
As sewing did not feel the difference I saw, so this time I tried to pull lightly on the seam part!
This is Satori.
I tried to pull it, but it is restored after I take off my hand. The trace did not remain so much that I could not tell where I pulled.
And this is a cheap jacket.
It is obvious at the picture how.
The mark remained clearly. . .
It may return to original after a while, sewing is a weak impression.
⑥Weight
Finally the weight of the jacket!
As you can tell if you actually bring it, the weight of the jacket is completely different.
So, I actually measured how much difference there is!
Since both are measured XL size this time, the size almost does not change.
Well, when I measured Satori's jacket ,,,,
It was 965 grams!
It is heavy!
And when I measured the cheap jacket ,,,
It was 430 grams.
The weight was more than doubled!
There is such a difference!
I think you will be wondering why there is such a difference. This depends on the amount of embroidery, density, type of fabric and thickness.
Although it is not that heavier one is better, you can still feel a sense of quality.
That's all!
I tried to compare embroidered bomber jackets this time!
How did you feel?
I think that you can understand that there are quite a difference.
Cheap sukajan is also nice, but there are reasons for the price to be high!
After all, the high price Sukajan is smart!
I would appreciate it if you could use it as a reference when choosing Sukajan!
Jul 08, 2017

Category:

Article
Comments: 0